Bloodduster was formed in the early part of the 1990's out of admiration for grind and lack to ability to play any other form of music. Although the musical direction in the beginning was a little fragmented, the goal was clear from the outset: fame, fortune and eventual world domination! Bearing this in mind, Jason PC (bass), Brick (drums) and 'a person who's name is not remembered'ůmaybe Fred(?) (guitars) joined forces to compose a few tracks which were recorded in 1992. These songs became the now legendary "Menstrual Soup" demo and it quickly became hated throughout the world, but people seemed to take notice of these 3 Australian hooligans.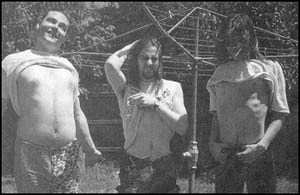 Blood Duster, circa 1990
Shortly after this episode, the first of never-ending line-up problems began to plague Bloodduster. Brick's had a physical accident and ended up with a completely fucked knee that forced him to retire, the strange man on guitars had a mental accident and ended locked up in an institution. Not a good start to any bands career, but Jason PC wanted an endless stream of women to grace his bed, so he searched for some new members to complete a new line-up. In the meantime, Bloodduster teamed up with Wild Rags Records in America to release their debut CD. After some time, the new Bloodduster was formed featuring Jason PC (bass), Tony (vocals), Shane (drums) and Brad (guitar).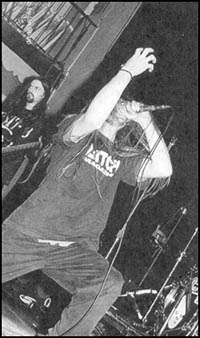 Blood Duster, circa 1993
After rehearsing a bunch of new songs, Bloodduster re-entered the studio to record in 1993. The final outcome was the brutal and extreme "Fisting the Dead" CD. For some reason or another, Wild Rags never ended up releasing the CD, so it was released on Australia's Dr.Jim's Records for the local market. It wasn't long after this that more line-up problems occurred. Shane left the band to join forces with Lord Lucifer creating his own black metal band and Brad also departed from the band to work on a fishing boat. "Fisting the Dead" was praised as one of the most intense and aggressive grind releases of all time and the royalties continue to this day to pay for the bands huge cocaine habit.
With a CD release out, Bloodduster had little problem in finding Fin (guitars) and Matt (drums) to replace the retiring members. The band quickly spent some time in the rehearsal room and recorded a 10-minute MCD in 1995 entitled "Yeest". Whilst retaining their traditional grind sound, this MCD began to show traces of groove rock which women immediately felt compelled to spread their legs for. Again Dr.Jim released this for the local market, but the bastards at Relapse Records in America decided to release "Yeest" with "Fisting the Dead" on 1 CD. Bloodduster began playing live on a regular basis and before long, their following was bigger than that of Judas Priest. Things were going well for the band for once, and so it was decided that they should throw a spanner in the works to cause confusion. Matt was kicked out because he liked Offspring, but it was unimportant. The name Bloodduster by now was as common a name as Ford or Coca-Cola. Within a short period of time, the band hired Euen on drums and again, they began rehearsing their material all over again.
Again a complete line-up, Bloodduster seemed to be spending more time in the rehearsal room than with their groupies, which was becoming increasingly frustrating for Jason PC and crew. Nonetheless, they wrote a bunch of new songs inspired by Southern country rock and endless nights of whiskey abuse - the final outcome was 1997's "St8 Outta Northcote" CD, again released by Dr.Jim for Australia and Relapse for the rest of the world. The boys decided to grace the front cover with their incredible genital specimens and the ladies went crazy for it!!! Bloodduster once again hit the live arena to promote the new album, but unfortunately Euen, who was unaccustomed to the fame, fortune and glamour of a hard rocking superband, could not cope with the endless free sex or the incredible quantities of alcohol and drugs. And so he left to embark on a quieter lifestyle, leaving Bloodduster once again temporarily up the shit.
The band quickly began searching again for a drummer and have most recently re-enlisted the services of Shane who participated on the "Fisting the Dead" CD release. Bloodduster continue to rehearse and are preparing for a double CD release for Relapse Records in early 2000, as well as a plethora of live shows. To date, the band has played and toured with such acts as: Carcass, Brutal Truth, Deicide & Boltthrower. Currently they are rehearsing for the Australian leg of the upcoming S.O.D tour and plan to tour America to support the release of the new double CD at the Milwaukee Metal Fest.
With new changes to the line-up, It now stands as; Jason PC (Bass), Tony (Vocals), Fin (Guitar), and now Matt Rizzo (Drums) whith whom you would remember off the "Yeest" CD.