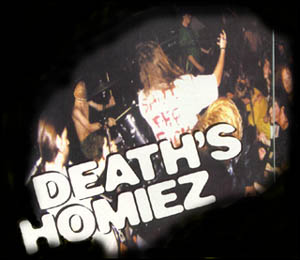 "LOUDMOUTH" magazine VOL 1 ISSUE 8 DEC/JAN 97/98
Hippie Kill Team? "I suppose that's us," he replies. "Y'know, just about all the hippie fucks who strut up and down Fitzroy."
It's way to easy to take yourself way too seriousley in this rock'n'roll game. Get yourself or your band a smidgen of success, say a few folk along to your gigs or the presentor of a national music video show to wear your shirt every other day, and it can quickly goto your head. You start walking around with your chin in the air and your finger second-knuckled up your 'four star hairy arsehole'*. Some try to play it down, other crave it. Some are expected to simply just be an arsehole and if you think they are it will inevitably make them behave that way. Some behave like arses because it's a fucking good laugh, and if you don't get the gag then the gag is squarly on you and no one else.
So let me introduce Jason PC, bassist and motivational man for Melbourne's Blood Duster, a band that has recently evolved from an underground grindcore phenomenon into an underground heavy groove band that isn't shy of a few blast beats.
"Whats the shit with Metal For The Brain?" he asks, before quoting from the work sheet he's recieved in the mail. "Leave you'r egos at the door'! I'll fucking be pushing mine around in front of me in a fucking wheelbarrow," he declares with pride.
After years of trying to foist his band and it's heavy sound upon the public, Jason has realised that he is the only one who can push his barrow, and so he's taken to it with relish. Which may means, he acknowledges, pissing off long time fans.
"I think anyone who has seen us over the last couple of years knows that this is the direction we were heading in," he starts by way of explaining what you can expect if you pick up their recently released CD, Str8 Outta Northcote. "Yeest was fairly straight ahead grindcore and Fisting The Dead was moving in this direction."
The direction he talks about is something akin to an even dirtier version of Kyuss. A phatter version of Fu Manchu or a less tripped out version of Monster Magnet - but all the while the 'Duster tradition of blast beats and upsetting everyone and anyone's apple carts remains solidly intact, like a private school girl's hymen, I'm sure Jason would say. Has this slight change in musical direction come about from the fact that you all smoke too much pot? After all, stoner groove is a very specific not to mention accurate desciption of much of the music on Str8 Outta Northcote. Though the band prefer '100% grinding death rock'.
"I don't smoke at all," he replies, somewhat offended, "and either does [drummer] Euan or [guitarist] Fin. Oh, Tony can't go anywhere without smoking, though. He get's up in the morning and doesn't seem to stop."
There's 21 tracks on Str8 Outta Northcote and all of 'em are hits, if you can make it past the titles and the lyrical content actually means anything. Running through some of the songs, Jason gives us a little trip down the pathway to what lies inside the minds of the 'Duster.
Track one - Givin' Stiff To The Stiff? "Well," he starts, "thats pretty obvious isn't it?"
Yep! Hippie Kill Team? "I suppose that's us," he replies. "Y'know, just about all the hippie fucks who strut up and down Fitzroy."
Metal As Fuck? "Thats about us again," he say's with no hint of irony in his voice.
I Hate Girls And Crusty Punx? "We got Bucky who used to sing in Beanflipper and their old manager, a girl, to sing back-ups on that song. That growling at the end, that's her, and when we were mixing it we didn't have a title, and we figured that one is sure to piss those two off," he says and laughs a soft little chuckle to himself.
Motherload? "Thats a song we didn't have a name for, I think,"
Deathsquad? "Well that'd be about us again, kinda like Hippie Kill Team."
And ofcourse we must ask about the exquisitely, not to forget succinctly, titled ditty, track 12, Where Does All The Money Go When Releasing A Full Length Album? "Thats fairly self explanatory isn't it? The people at Shock and Dr Jim's [the two companies involved in releasing and distributing 'Duster's CD's], they know they are making money out of us and so do we. They'll make more money out of our CD's at this stage than we ever will, and they don't mind us writing a song like that which pokes fun at them, because they're getting paid for it."
To be fair, Jason does agree that people are starting to understand this more and more about Blood Duster: they might be taking the piss out of you, but they don't necessarily mean any harm. Like eating a Big Mac at a Vegan benefit, taking the piss out of your record company is something you can only pull off if you are confident with yourself and your music. Luckily, confidence is something Blood Duster have in abundance.
"The people at Shock even think the CD cover is funny," Jason continues, talking about the 'computer enhanced' imagery you may have seen in last month's Loudmouth. Speaking of computer enhanced the back cover of Str8 Outta Northcote is well intended satire of the artwork for Kyuss' monumental Sky Valley album art, except now it reads, 'Northcote 32, Springvale 20, Compton 6' - What is it with Northcote? Isn't it just some inner suburbs Melbourne shit hole? "No Way!" Jason demands, and you can hear his fist land on the table. "Northcote's awesome. The day I first moved here I went across the road to the shop and saw a guy wearing a Blood Duster T-shirt. I looked at him as if to say 'Hi!' and he stared back at me like I was a fag or something. That was so cool."
You know the old saying, if you can't stand a joke, don't be one.
Story by Jeremy Sheaffe - LOUDMOUTH magazine 97-8