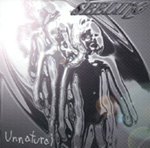 Seeling "Unnatural"
Click on the above cover for the track listings (thanx danielle)
Seeling have released 2 CD's, a debut EP titled "Quinky: The Mountain Goat Series", and the latest full length titled "Unnatural".
I haven't got any of there CD's (as yet), but what I've heard live fucking goes off!!
Once I get the CD's myself I will put up track listings, and cover art etc etc....